Africa has provided some of the greatest individuals in the world starting from Barrack Obama (Uh huh… his father was from Kenya), super models on global runways, skilled footballers, talented musicians like Oliver Mtukudzi, renowned athletes on the track and long distance runners among many others. All these people have some things in common, they are popular, they are good at what they do and most importantly, they have a lot of money and influence from their careers. The only thing that sets them apart is the size of their hearts and how they have dedicated part of their wealth by giving back to the society to the society in terms of education, charities and other supportive causes.
Here are a few of them:
Didier Drogba
Didier Drogba is a household name and not just in his country or Africa, having made a name for himself playing for major clubs in Europe, Asia and his home country. He is among the best football players in Africa and in the world having scored many goals that have assisted his clubs such as Chelsea to make important steps in their competitions. He was voted as the greatest player for all time for Chelsea in 2012.
Apart from being a world renowned footballer , Drogba has a heart that is as huge as his career. In 2007, the award winning soccer star founded the Didier Drogba Foundation. In 2013, this foundation distributed health materials and billboards across African countries during the Africa Cup of Nations that was held in South Africa. His organization is also a huge supporter of the United Against Malaria Organization which helps in fighting Malaria and reducing the deaths caused by this disease. He supports a range of other humanitarian activities aimed at making Africa a better continent for its people.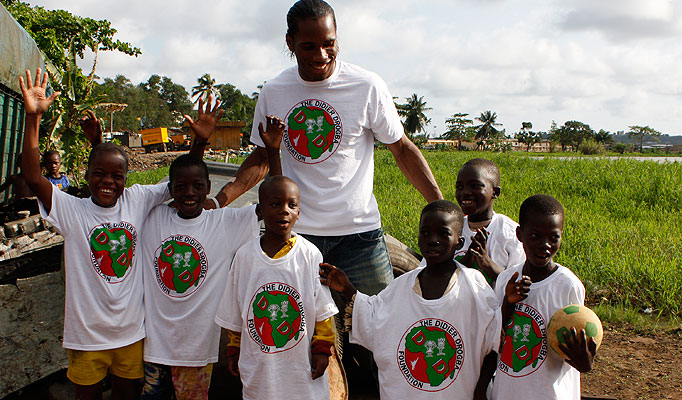 Alek Wek
Away from the football pitch into the world of fashion, design and runways, we meet Alek Wek. Alek is a South Sudanese super model who has risen to fame and walked on high profile runways displaying designs from world renowned fashion designers. Along with her fame and her fashion activities, Alek has gathered a lot of wealth and connections in many countries. This has enabled the super model to bring back smiles to the society she came from.
Alek Wek's Journey Home is the name of her charitable foundation which is geared towards supporting United Nations High Commissioner for Refugees by launching life changing projects related to agriculture, health and education in South Sudan. The foundation is currently helping about 700,000 South Sudanese people in the process of rebuilding their lives.
There are many more celebrities involved in charitable work across Africa, name some that you know…