Mini Cooper is a small cars that is manufactured by BMC (British Motor Corporation) followed by its successors between1959 to 2000. The mini cooper is in some way compared to the German all time favorite bug; the Volkswagen Beetle. This is because they are both small cars that gained great popularity maybe because of their size, their design or their use in motion pictures. Over the years, the mini cooper has appeared in quite a number of films that contributed a great deal in its popularity these include famous Mr. Bean's Mini cooper that well all can relate to.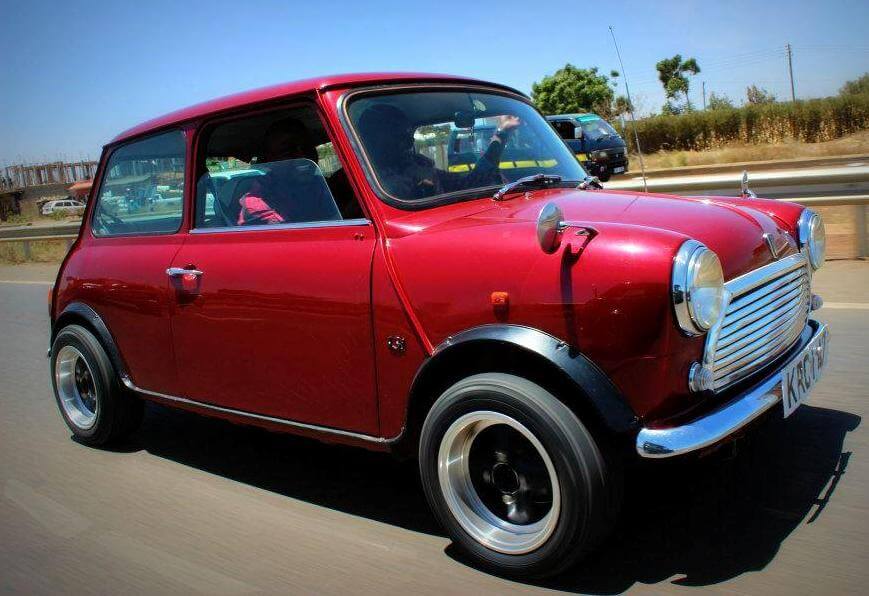 A gracious mini cooper in Kenya
Image source:www.facebook.com/MiniLoversInKenya
In Kenya..
In Kenya, the Mini cooper is adored equally and has many fans across the counties. Most people view it as a vintage car that they can use in events or just have fun driving around. Most mini owners in Kenya do not own the latest models and thus the small machines they own still possess the classic touch. There are a few competitions involving vintage cars that have seen the appearance of Mini coopers and judging by their performance, they are still the influential small cars they were back in the day.
Mini Use
The ways in which Minis are used in Kenya are limitless. Some people just enjoy customizing the small bugs into the modern machines they prefer and this still makes them look good. While some garages are busy customizing the Minis, others are trying their level best to retain every original feature on these vehicles. This is what draws the lines between people interested in minis and the diehard enthusiasts who do not want to see these small famous vehicles fade into the forgotten abyss of the automotive industry.
Kenya mini lovers have formed a group comprising of a number of Mini cooper owners that meets to show case their small machines. The group meets to show what they have and do more than just present their Mini coopers. In a previous event which was graced by the Kenyan favorite comedian, Churchill (Gideon Ndambuki), The Mini Lovers of Kenya showcased their vehicles and also visited a children's home to give their support.
Last year, the group, again led by Churchill, created a Mini cooper race which was flagged off at Nairobi Kenya with the finish line in Machakos town. The race was a two in one activity because its flagging off also signified the start of the Masaku Sevens Rugby, which was the first event of a rugby tournament to be held in Machakos.
There are new versions of the Mini Cooper but what you will find most in Kenya are the classic versions, only that some are customized and made more colorful. The Mini Lovers in Kenya group is bound to grow as people get to know about it, and is soon expected to be among the biggest motor sports events in the country. While this happens, people are also using these small vehicles in wedding convoys and in the world or art and music to make a statement. It might be that the Mini cooper is small, but its influence is surprisingly huge and it is not about to fade away.