Best vehicles to hire while on an African safari
Going on an African Safari can turn out to be one of the greatest experiences of your life especially you move around in a comfortable vehicle. Imagine how unpleasant it would be if you found yourself in the hot plains of Africa, huddled in a small car with poor ventilation and yet you are trying to make the most of your sightseeing.
You would not enjoy the eye candy that is the African wild animals and the picturesque scenery. Well, finding the best vehicle for a Safari is necessary if you expect to enjoy yourself. It would be helpful therefore to learn what vehicles are the best for hire on any African Safari.
First, there are certain qualities a vehicle must possess in order to even be considered for hire. For most tourists, the journey into the bush is hallmarked by exhilarating days in the pursuit of the African Wildlife.
In order to have a less tiring, more fruitful experience, ground transportation ought to be of the highest quality. In general, the vehicle you choose must have comfy seats with headrests and be roomy enough. The windows should offer a large view. If possible, a pop-up roof or an open top vehicle would be great as well. The above are just but the basic things a Safari vehicle must have.
Thanks to innovation, some vehicles have ice chests with cooled bottled water and drinks. Other cars offer binoculars to give you a worthwhile experience in viewing animals and scenery.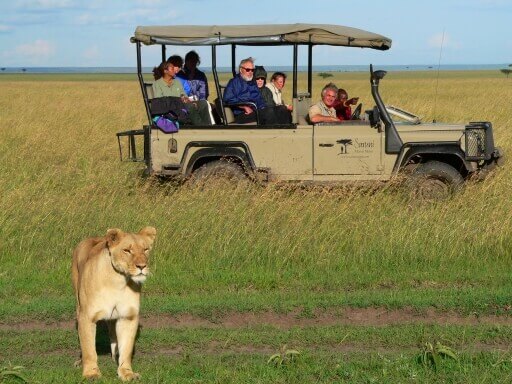 One of the very best hires for a Safari would be a 4×4 vehicle and there are practical reasons for that. First, the terrain in the African wild as well as the coastal areas is mostly accessed by gravel roads. In order to travel well on such ground, a 4×4 vehicle is needed.
Any other less powerful car may have difficulty moving. Moreover, this vehicle has good ride height. What this means is that you will be able to sight-see very well as compared to moving about in a standard car. One great example of such a car is the Toyota LandCruiser.
Built for off-road purposes, this vehicle will provide you with a reliable and highly comfortable option. Well accessorized, you will find spacious roof racks, fender covers and great suspension. Trust this car especially because it has a great engine, chassis and drive train.
The ordinary vehicles do not match the practicability of the vehicles built for tough terrain. The best vehicle to hire is one that is not likely to get a flat tire easily. A vehicle that can handle off road terrains and has good ground clearance and offset differential is the option you should settle for.
You definitely do not need a car which makes all the passengers tumble over when it counters a sharp corner or a hilly climb. A vehicle with all these intricate details exists, search for it and you will have yourself an amazing African Safari.